Vibratory Cleaning Equipment
Primarily used for Thread Protector Cleaning, our Vibratory Parts Cleaners can be used to efficiently clean most any parts through a solvent based vibratory process.
Thread Protector Cleaning Machine
The Hub City Iron Works Thread Protector Cleaning Machine uses a solvent with a ceramic media to rub against the ID and OD surfaces of thread protectors and provides an unrivaled cleaning solution. The process, which takes about 45 minutes, uses an industrial strength vibratory motor to circulate the media and remove debris from thread protectors. This unit, in addition to being fast and effective, eliminates the human element from the process resulting in a safe and superior operation. Recommended for a indoor facility.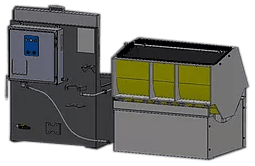 Economy Thread Protector Cleaning Machine